Partners
Project developer

University of Applied Sciences Velika Gorica is a higher education institution that carries out five undergraduate professional study programmes and three specialist professional graduate study programs whose curricula are realized through modern technologies that are being continuously updated, and which facilitate easier transfer of knowledge to the students to ensure employment and career advancement once they enter the labor market and their subsistence in one of today's modern organizations. The aim of the University of Applied Sciences Velika Gorica is to educate students for specific fields of professions and thus contribute to the general development of the education system and ensure sufficient amount and quality of highly qualified staff. A continuous analysis of the human potential market indicates the need for the education for certain professions, which is why the University of Applied Sciences Velika Gorica carries out study programmes that emanate in the educational process for the first time, not only in Croatia but also in the world. It is because of such different approach to education and creation of new values ​​ required by the economy, the University of Applied Sciences Velika Gorica has been ranked among the top three higher education institutions of this type in Croatia regarding the number of enrolled students.
There are about 1500 full-time and part-time students currently enrolled at the University of Applied
Sciences Velika Gorica
Undergraduate professional study programmes:
Computer System Maintenance
Motor Vehicle Maintenance
Aircraft Maintenance
Management in Crisis Situations
Optometry
Specialist graduate professional study programmes:
Crisis Management
Information Systems
Management of Logistic Systems and Processes
Project partner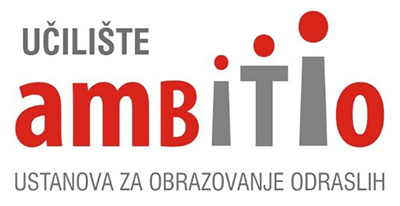 Ambito College is an institution for adult education that was established in 2011 with the aim to implement unique adult education programs, approved and recognized in the countries of the European Union, which widen employment opportunities for students, enable firm positioning in the labor market, and support their professional development through continuous education. Ambitio College monitors the needs of potential employers and thus develops added value educational programmes which sets new standards and increases the quality of education, while setting new employment criteria.
The Ambitio College mission is to create new values ​​in the field of human resources through education and training of people for deficit professions and in interaction with the labor market. The College vision is to become a reputable educational institution that conducts high quality education and activities where specific knowledge is required.
The College employs 6 full-time employees and over 40 part-time teaching staff – external experts with years of professional experience in relevant areas and ikmplements formal adult education programs in the field of health and tourism, such as:
training programs for dental assistants, palliative care jobs and managers in health tourism,
training program for nurses/medical technicians in palliative care
a program of secondary vocational qualification / re-qualification for the dental assistant.